EN
The Career Office at the University of Warsaw addresses its services to all our students, doctoral and postgraduate students, as well as to our graduates of all types of studies, regardless of the year in which they graduated from the University.
If you want to:
get acquainted with current trends in the labour market,
talk about your possible career path,
consult your application documents (CV, covering letter and other documents),
learn how to respond more effectively to the needs of the labour market and where to look for offers,
find out about the workshops and training courses offered by our Office in cooperation with employers,
be referred for non-compulsory internships as part of your course of study,
you are most welcome to visit the Careers Office at the University of Warsaw and take advantage of our services!
To make an appointment with an advisor, please apply contact us via:
email: biurokarier@adm.uw.edu.pl
phone:  22 55 20 585 (Wednesday, Friday)
open: Monday – Friday 8 AM – 4 PM
TEMPORARY LOCATION OF THE CAREER OFFICE: 8 Oboźna Street, 00-332 Warsaw; Second floor, Room 216 A
address: 32 Krakowskie Przedmieście Street, 00-927 Warsaw, Potocki Palace annex, staircase E, ground floor
service in English: in person on Wednesday and Friday or via e-mail from Monday until Friday.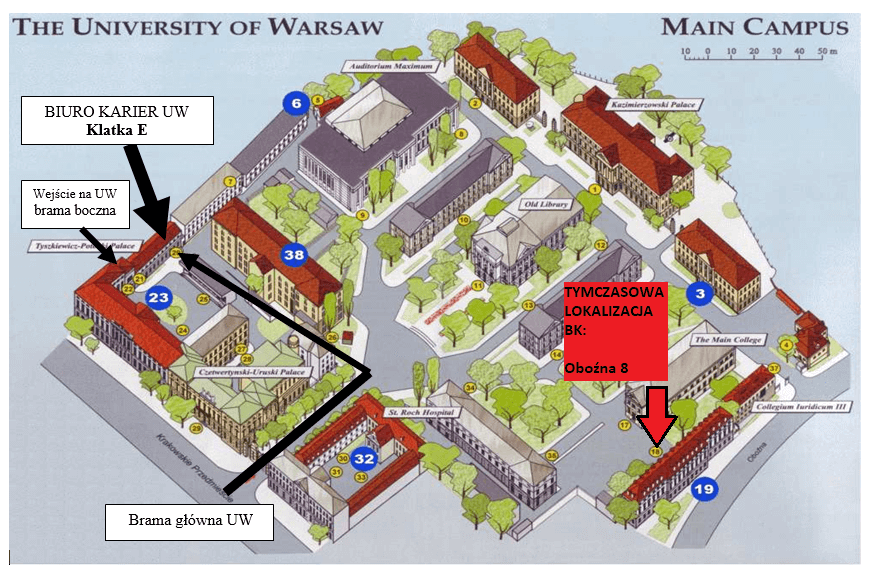 Having received your application, we will arrange the details of the meeting together.
In addition, after your visit you will be given access to the inter-university service of Academic Career Centres [Portal of Academic Career Centres] which will enable you to:
review offers from major national and international employers,
enhance your CV,
apply quickly and intuitively for offers posted on the site.
The UW Careers Office is based at the Central Campus:
32 Krakowskie Przedmieście, Entrance E, ground floor
All visits to the UW Careers Office are arranged Monday through Friday from 8:00 a.m. to 4:00 p.m. After prior consultation with our staff, it is possible to have an appointment at times other than those listed above. Such situations are dealt with on a case-by-case basis.
Portal with internship and job opportunities  – in order to see the full content of the offers, send to biurokarier@adm.uw.edu.pl filled-in and signed scan of the BK DECLARATION
Welcome Point – central information service for international employees, visitors and students
Information on internships – currently only available in Polish